Miguel Ángel Solá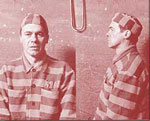 Nationality :
ARGENTINA.
Biography :
Recognized worldwide by film critics and audiences, Mr. Solá has received 29 awards including the Konex Award (Argentina) for
the decade's Best Actor, the Francisco Rabal Award (Spain) and many nominations such as to the Goya Awards for "Sé quien
eres" and to the Screenwriters Awards for "Plenilunio". His latest works are "La Playa de los Galgos" by M. Camus and "Fausto
5.0" by the group "La Fura dels Baus".
Filmography :
-
La Fuga (2001)