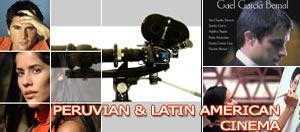 Probably the most famous of the Latin American Cinema, is the Mexican Movie, that became pret web known during the 1940, especially by the director: Emilio Fernández "El Indio". This period is also called "the Golden Age" of the Mexican Movie, with actors María Félix, Jorge Negrete, Carmen Sevilla, Pedro Armendaris y Mario Moreno "Cantinflas".
Also Argentina had a period of relavitely succes, as web as Brasil with the director Glauber Rocha y Nelson Pereira dos Santos., who also reflected social reality in his Movies.
The cinema in Cuba was totally determined by the Revolution. Tomás Gutiérrez Alea (Fresa y chocolate, 1993) y Humberto Solás are the most well knows directors; in Chile, Miguel Litín.
In Peru there is basically one director that has a certain international name: Francisco Lombardi. Lombardi has been working producing movies since 1977. Most of his movies were based in real facts, a couple of other ones were based in novels, as for example " No se lo digas a nadie " (1998), a good movie about a homosexual boy that discovers his sexuality in a hipocretic, upper middle class Limeñan atmosphere. (based on the novel of the Peruvian writer Jaime Bayli).
Most Viewed Films
36132 Vistas
32559 Vistas
31328 Vistas
29683 Vistas
28081 Vistas
27011 Vistas
23700 Vistas
22430 Vistas
21828 Vistas
19391 Vistas
17605 Vistas
17541 Vistas
17035 Vistas
16667 Vistas
16547 Vistas