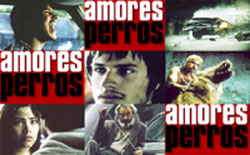 Duration :
153 mins.
Directed By :
Alejandro González Iñárritu
Cast :
-
Emilio Echevarría
-
Gael García Bernal
-
Goya Toledo
-
Jorge Salinas
-
Rodrigo Murray Prisant
-
Vanessa Bauche
Sinopsis :
AMORES PERROS is a bold, intensely emotional, and ambitious story of lives that collide in a Mexico City car crash. Inventively structured as a triptych of overlapping and intersecting narratives, AMORES PERROS explores the lives of disparate characters who are catapulted into unforeseen dramatic situations instigated by the seemingly inconsequential destiny of a dog named Cofi.
"Octavio and Susana," Cofi's teenage owner enters his dog into the brutal world of dog fighting to raise money for his elopement with his brother's young and appealing wife. Cofi's near-fatal injury prompts a reckless car chase that ends abruptly and violently. In "Daniel and Valeria," a middle-aged businessman discovers that dreams can become nightmares after he abandons his family to set up housekeeping with a beautiful young model who is tragically transformed by the crash. Finally, in "El Chivo and Maru," a revolutionary-turned-assassin witnesses the accident and finds that it leads him to an unexpected and life-altering moral epiphany.
A powerful and profound story of love, loss, retribution and redemption, AMORES PERROS raises provocative questions about the human condition at the same time that the film daringly recapitulates and reinvents different styles of Latin cinema. The result is a vivid and intricate mosaic of classic themes rendered in original -- and unforgettable ways.