Alejandro González Iñárritu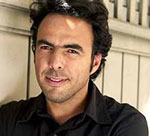 Nationality :
MEXICO.
Biography :
By the age of twenty-three, Alejandro González Iñárritu was a highly successful director, producer and D.J. for WFM, the most popular rock music radio station in Mexico. Subsequently, he produced the score for six Mexican full-length feature films. In 1990 he was appointed creative director of TELEVISA. In 1991 he founded the production company, ZETA FILM. Four years later, he directed his first television film, DETRÁS DEL DINERO, starring Miguel Bose. In 1999 he directed and produced his first full-length feature film: AMORES PERROS .
Hailed by critics and audiences as one of the most important films of the year, AMORES PERROS has been nominated for the Golden Globe Award for Best Foreign Film and is the Official Mexican Entry for Best Foreign Language Film for the Academy Awards. The film won the International Critics' Week Grand Prize, the Grand Rail D'Or (Audience Award for Best Film, Critic's Week) and the Prix de la Jeune Critique Mercedes Benz at the Cannes Film Festival 2000. González Iñárritu has received an impressive list of prizes and awards for his directorial debut, including the Critic's Award for Best First Film at the Festival de Cine Iberoamericano, Best Director at the Tokyo Film Festival, the Grand Prix Award for Best Director at the International Film Festival of Flanders, the Guardian New Director's Award at the Edinburgh Film Festival, the Cmrculo Precolombino de Oro for Best Director at the International Film Festival of Bogota, and a Special Mention for Cinematographic Language at the Sao Paulo International Film Festival.
Filmography :
-
Mar adentro (2004)
-
Amores Perros (2000)