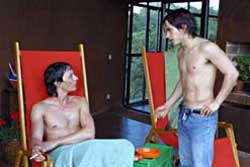 Duration :
109 mins.
Directed By :
Pedro Almodóvar
Cast :
- Fele Martínez
- Francisco Gattorno
-
Gael García Bernal
- Leonor Watling
- Lluis Homar
Oficial Site :
www.lamalaeducacion.com
Sinopsis :
Two kids, Ignacio and Enrique, discover love, cinema and fear in a religious school at the start of the '60s. Father Manolo, the school principal and their literature teacher, is witness to and part of these discoveries.
The three characters meet twice again, at the end of the '70s and in the '80s, encounters that will change their lives forever.