Pedro Almodóvar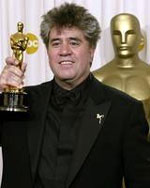 Nationality :
SPAIN.
Biography :
Born in the 50's in Calzada de Calatrava, province of Ciudad Real, legal party of Almagro and Archbishopric of Toledo. He migrated with his family to Extremadura when he was eight. There he went to Elementary and High School with the Salesians and Franciscans fathers. His bad religious education just taught him to loose his faith in God. By that time he starts compulsively going to the movies in Caceres.
"I was born in a very bad time for Spain, but a good one indeed for the film industry. I'm talking about the fifties. I was still a child when I first stepped into a hometown theater. It looked sort of like the one portrayed in some sequences of "El Espíritu de la colmena" -if my memory serves me right, there is a theater in that film by Erice".
"Apart from the chair, the first time I went to a theater I also took a can of coal with me to fight the cold during the projection. In time, the heat of that makeshift hearth has become the paradigm of what movies meant to me back then".
2002 is the most incredible year for Pedro Almodóvar, and the reason is 'Talk to her'. His movie that overcomes the levels of national and international success that seemed to have led to as high place as possible 'All about my mother'. The whole press of the planet praises the movie and receives hundreds of important prizes, including the Oscar to The Best Original script, which wins in fight with companions as Martin Scorsese, beside being selected also for the Oscar to the Best Director - and without being the film selected by the Academy of Spanish Cinema for these prizes.
In 2004, After developing several projects, which include to Antonio Banderas y Penélope Cruz among other great Spanish actors and from other countries, he decides to roll 'La mala educación'.
Filmography :
-
La mala educación (2004)
-
Hable con ella (2002)
-
Carne Tremula (1997)
-
Kika (1993)
-
Atame (1990)
-
Mujeres al borde de un ataque de nervios (1988)