Jorge Perugorria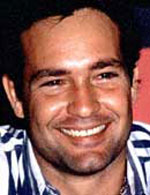 Nationality :
CUBA.
Biography :
In Cuba, his name is associated to a much loved and admired character, regardless of the personality he adopts in the many roles he has played. It could very well be a joyful homosexual, in Strawberry and Chocolate; a very macho truck driver, in Guantanamera; a gluttonous rogue, in Waiting List, or a tormented "marielito" émigré, in Honey For Oshun.
The big screen professional was born in Havana, Cuba, in 1965 and his work as an actor began with small roles in television and theater. He stepped out of anonymity when in 1993 Cuban director Tomas Gutierrez Alea, popularly known as Titon, chose him to play one of the key characters in Strawberry and Chocolate.
Of Spanish ascent, Jorge Perugorria is the first member of his family to be born in Havana, Cuba.
The first ten of his 20 years of professional life were devoted to theater. "These twenty years have been of intense work. After Strawberry and Chocolate, I have made more than thirty films," says Perugorria.
Filmography :
-
Guantanamera (1995)
-
Fresa y Chocolate (1993)