Hugo Rodríguez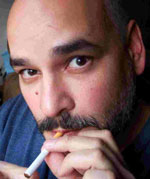 Nationality :
ARGENTINA.
Biography :
Born in Buenos Aires, Argentina and lives in Mexico since 1981.
Studied the specialty of film-photography at the Centro de Capacitación Cinematográfica. He is currently sub director of production and technical services and also a teacher at Mexico's most prestigious film school: CCC.
In 1993, he wrote, directed, edited and produced his first feature film, "En medio de la nada" (In the middle of nowhere).
Hugo has been director of production of the following feature films: "Pachito Rex". "Human Beings", "Kissing Cousin", "Bandidos" and "De ida y vuelta". He has also been director of production of numerous short-films and documentaries. Among them "Papá Iván", "Zapata's shoes" and "Memories". The short-film "The eye in the neck", also produced by him, won the Student Oscar in 2000.
He has been assistant director to Carlos Carrera in "Benjamin's woman" and to Alfonso Cuarón in "Love in times of Hysteria".
"Nicotina" is his second feature film and his first collaboration with writer Martín Salinas and producers Laura Imperiale and Martha Sosa.
Filmography :
-
Nicotina (2003)