Hector Babenco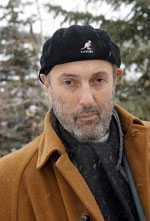 Nationality :
ARGENTINA.
Biography :
Born in Buenos Aires, Argentina in 1946 and given Brazilian citizenship in 1970, he began his career in the cinema playing roles of extras in European productions.
Babenco arrived in Brazil in 1969. Prior to his debut in direction, which came with the documentary "The Fabulous Fittipaldi" in 1973, he held several different occupations, including a tombstone salesman. In 1975, he directed his first feature film entitled "King of the Night", starring Paulo José and Marília Pera. Two years later came "Lúcio Flávio, Passenger of Agony", which, with more than six million viewers, became the fourth largest box office film in the history of the Brazilian cinema.
"Pixote, The Law of the Weakest" (1980) gave Babenco international fame. U.S. critics hailed the film as one of the ten greatest foreign movies of the 80's. The movie was also successful in England, France, Japan and Scandinavia. The internationally prestigious Pixote was followed by the successful 1984 movie "The Kiss of the Spider Woman", featuring William Hurt, Raul Julia and Sônia Braga. Nominated by the Academy for several Oscar awards, Babenco´s fifth feature film won Best Actor for William Hurt´s performance.
Then, the filmmaker initiated the American stage of his career, beginning with "Ironweed"(1987) with Meryl Streep and Jack Nicholson. Last year at the Cannes Film Festival, Nicholson declared that that movie had been one of the most gratifying experiences of his professional career as an actor. Next, came "At Play in the Fields of the Lord", which was shot in the Amazon Forest and featured movie stars such as Kathy Bates, Tom Waits, Tom Berenger and Daryl Hannah.
After winning his battle against lymphatic cancer, Babenco filmed, for the first time, a movie in his home country. Entitled "Foolish Heart" (1998), it was shot in Argentina with the participation of both Brazilian and Argentine cast, crew and producers.
Babenco does not like to classify his own work, however, he says that "it makes sense" to divide his movies into "subjective" movies such as "Kiss…", "Ironweed" and "Foolish Heart", and "realistic" movies like "King of the Night ", "Lúcio Flávio" and "Pixote".
Babenco´s "CARANDIRU" falls into the second category. After "Pixote" and "Kiss…", "Carandiru" is his third film to take place inside a prison. The filmmaker says that he uses prison as a "metaphor for a huis clos or No Way Out situation, for a moment of extreme." A very Brazilian metaphor, like Babenco himself.
Filmography :
-
Carandiru (2004)