INFORMATION
SPANISH COURSES
SPANISH RESOURCES
ABOUT ARGENTINA
VIDEOS
OTHER RESOURCES
EXCURSIONS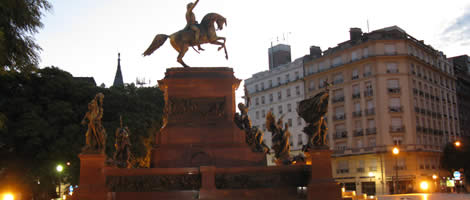 Our school offers all kinds of excursions tailored to deepen our students' experiences of Buenos Aires and its surrounds. We are also equipped to address individual needs, such as booking bus and plane tickets and helping students plan their onward journeys.
Some of the many excursions that we offer include:
The City Tour
Take the pulse of Buenos Aires with our city tour. From the historic area around the Plaza de Mayo, continue on to visit the infamous Obelisk and one of the most important Opera houses in the world, the Teatro Colon. Then, spanning outward explore the flavourful barrios of Buenos Aires: the colonial San Telmo, the colourful La Boca, the up-and-come Puerto Madero and the fashionable Recoleta and Palermo.
Tigre and the Parana Delta
Explore Tigre by heading up on the coastal train to the weekend getaway destination of the Portenos. From here, sail around the hundreds of islands that constitute the Parana river delta, an ecologically diverse and valuable reserve, at the mouth of the Rio de la Plata.
The Estancia Tour
Head out to a working estancia, or ranch, for the day and witness firsthand the guacho culture. Take a ride out on the vast pampas, appreciate the riding and herding skills and, for lunch, enjoy a traditional country asado, or barbeque, over an open fire pit.
The Tango Show
Buenos Aires is exemplified by its homegrown tango: sumptuous, passionate and cultured. Over dinner and drinks, listen to a live band playing classic tangos and the singers crooning the melancholic songs of the King of Tango, Carlos Gardel, and, of course, be awed by watching the intricately choreographed tango performances.