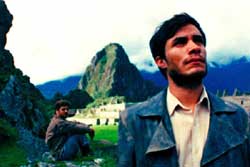 Duration :
128 mins.
Directed By :
Walter Salles
Cast :
-
Gael García Bernal
- Mercedes Moran
- Mia Maestro
-
Rodrigo Murray Prisant
- Susana Lanteri
Oficial Site :
www.motorcyclediariesmovie.com
Sinopsis :
This is the true story of a 23-year-old medical student from Argentina, Che Guevara (Bernal), who traveled across South America on a motorcycle with his friend Alberto Granado (de la Serna) in 1951-1952, in a personal odyssey which would ultimately inspire him to become a revolutionary who had a profound impact on the history of several nations. The duo has a series of adventures that vary from the suspenseful (stowing away on a cargo ship, exploring Incan ruins) to the comedic (falling off their bikes, wooing women, drunken revelry) to the serious (volunteering at a leper colony).