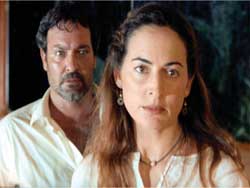 Duration :
91 mins.
Directed By :
Esteban Ramírez
Cast :
- Bárbara Lennie
- Juan Diego Botto
- Pilar López de Ayala
Oficial Site :
www.caribelapelicula.com/
Sinopsis :
Politics, passion and environmentalism collide in this steamy drama set in Costa Rica. After moving to a peaceful Costa Rican fishing community to work for a banana company, Vicente Vallejo and his wife Abigail become involved in a struggle between angry locals and a multinational oil company that wants to drill off the coast. Featuring strong performances by Jorge Perugorria, Maya Zapata, Cuca Escribano and Gabriel Retes, this film is the winner of numerous awards, including Best Film (Huelva 2004) and Best Director (Trieste 2004). For Mature Audiences.