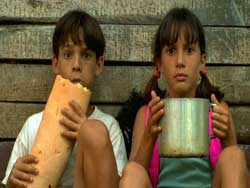 Duration :
80 mins.
Directed By :
Juan Carlos Cremata Malberti
Cast :
- Albertico Pujols Acosta
- Jorgito Miló Ávila
- Larisa Vega Alamar
- Luisa María Jiménez Rodríquez
- Malú Tarrau Broche
Oficial Site :
www.vivacubamovie.com
Sinopsis :
Viva Cuba is a road movie that goes from one end of the island to the other, in which two children run away from home so that they won't be separated by their parents. In a journey "toward the heart of hope," Jorgito and Malú, the two winning heroes, travel through the island "searching for a wish – to be together and overcome the differences and find a better future," the director explained during a press conference.
According to the preview, the two children promise to be friends forever, and run away together, fleeing from the plan of Malu's mother to leave the country and take the girl with her. "The first thing we want to do is call on parents to reflect, so that they very much take into account the opinions of their children when they make such important decisions."
One of the finest aspects of the film is the actors, especially the two children, Malú Tarrau and Jorgito Miló, and the actresses who play their mothers, Luisa María Jiménez and Larisa Vega, followed by a prestigious cast that includes Eslinda Nuñez, Manuel Porto and Albertico Pujols.
Juan Carlos Cremata, who burst onto the Cuban film scene less than five years ago with Nada (Nothing), his first feature-length film, has also made a "family" movie in the strictest sense.