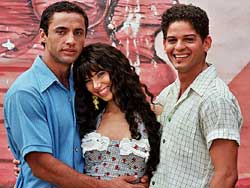 Duration :
112 mins.
Directed By :
Vicente Juarbe
Cast :
- Carlos Esteban Fonseca
- Idalia Perez Garay
- Ivan Camilo
- Kamar De Los Reyes
- Roselyn Sanchez
Oficial Site :
www.cayopr.com/
Sinopsis :
Cayo is the story of three friends, two men and a woman, who must deal with life's adversities. They bond, then, separated by circumstances they do not control, only meet again as three very different persons who must try to reconcile themselves with each other. The film is set in Culebra, a small island located near Puerto Rico's Eastern coast.