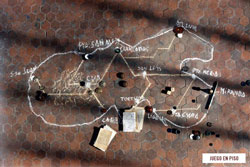 Duration :
115 mins.
Directed By :
Alberto Lecchi
Cast :
- Darío Grandinetti
- Diego Torres
- Juan Echanove
- Rebeca Cobos
- Vladimir Cruz
Oficial Site :
www.eljuegodearcibel.com.ar/
Sinopsis :
1967 - in an imaginary Latin American country, ruled by the dictator General Abalorio, Arcibel Alegria, a journalist, is taken to jail as a political prisoner due to a mistake made by the editor of the newspaper he works for. Arcibel, an apolitical, solitary person, will begin to know a world that was alien to him. Years go by and General Abalorio is elected president after democratic election and all political prisoners are set free except Arcibel who, due to a bureaucratic mess, will be confined to jail amongst common prisoners.
Pablo, his cellmate, does not know how to read or write and Arcibel becomes his mentor and teacher and in the meantime develops an ingenious war and strategy game. In time Pablo becomes an expert player and is then when he meets Arcibel's daughter who is already in her twenties.The day Pablo manages to beat Arcibel in the game, he escapes. Arcibel then must endure severe punishments for keeping quiet about his cellmate's jailbreak. However, time gives him another surprise: his game is no longer a game, it has become real and the two leading players are Pablo and Rosalinda.