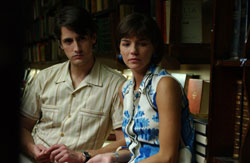 Duration :
155 mins.
Directed By :
Adolfo Aristarain
Cast :
- Agustin Garvie
- José Sacristán
- Juan Diego Botto
- Marcela Kloosterboer
- Maximiliano Ghione
- Susú Pecoraro
Oficial Site :
www.romalapelicula.com
Sinopsis :
When journalist Manuel Cueto is hired to type novelist Joaquín Góñez's last book, his presence provokes an avalanche of feelings that bring Joaquín to the edge of emotions and memories that had lain dormant in the solitude of the last stages of his creative life. Accustomed to years of loneliness, Joaquín finds in the young journalist a bridge to the forgotten years of his youth in the 60's and 70's, during his wild years in Buenos Aires. Argentina had been witness to the mistakes made in the passage to adulthood, the memories of old friends, the meaning of loyalty, the influences of cinema and jazz, the taste of first love and the experiences of the many which followed and the intimate relationship with his parents, particularly with his mother Roma, a strong, intelligent woman, a supporter of his youthful ideals. It is to Roma to whom Joaquín owes his free, bohemian spirit and the aspirations shared with her in the shadow of the memory of his father will awaken in Joaquín the desire and the impatience to recover all he had, so far, believed lost.