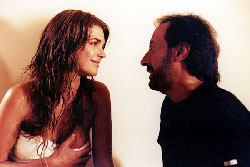 Duration :
98 mins.
Directed By :
Juan Bautista Stagnaro
Cast :
- Araceli Gonzalez
- Claudia Fontán
- Guillermo Francella
- Javier Lombardo
Sinopsis :
Reynaldo works as a freelance illustrator and photographer. Tati hopes to become a top model. They meet at a night event in Mar del Plata, where they pretend to be more than what they really are, just to impress each other. They say goodbye the next morning, with the promise of meeting soon again. A series of occurrences will separate them, and the truth about their real lives will came to light. They finally figure out that they are in love, even though they are not what they pretended to be.