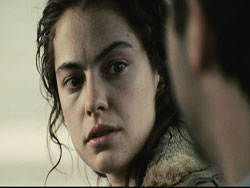 Duration :
138 mins.
Directed By :
Fabián Bielinsky
Cast :
- Alejandro Awada
- Dolores Fonzi
- Jorge D'Elía
- Pablo Cedrón
- Ricardo Darín
Oficial Site :
www.uol.com.ar/buenavista/elaura/indexf.htm
Sinopsis :
A nameless, unprepossessing taxidermist (Ricardo Darín) fancies himself capable of committing the perfect robbery. Possessing an acute photographic memory, he can clearly remember every detail of everything he sees.
When a friend, Sontag (Alejandro Awada), invites him on a hunting trip to Patagonia, the taxidermist, whose wife has just left him, accepts the invitation as a means to escape from his drab life in Buenos Aires.
The taxidermist, however, is not a hunter. Although he makes a living working with the remains of dead animals, he's averse to killing. While on a hunting excursion, he gets into a nasty fight with Sontag - who, besides enjoying killing beautiful animals, happens to be a wife-beater.
The taxidermist is left behind in the forest, where he suffers an epileptic attack. When he recovers, he sees a majestic deer near him. Feeling the need to prove his manhood, he aims at the deer. But since he's still recovering from his episode, he ends up shooting another hunter, Carlos Dietrich (Manuel Rodal), the mysterious owner of the local lodge.
By listening in to Dietrich's cell phone messages, and by doing some investigation of his own in Dietrich's secret hideaway, he discovers that the hunter was planning a casino heist.
When he meets Sosa (Pablo Cedron) and his mentor Montero (Walter Reyno), two of Dietrich's accomplices who have arrived from northern Argentina, the taxidermist pretends to be Dietrich's fellow partner in crime. He explains that Dietrich had to leave unexpectedly because of a potential police investigation. During that time, he also develops a fascination with Dietrich's eerie pet, a wolf-dog (Eva) with one blue eye and one brown eye. After a number of coincidences lead him ever closer to accomplishing his Perfect Robbery dream, the taxidermist makes a fatal mistake. Instead of the expected two guards in the casino's armored truck, there will be three. He tries to call his accomplices to warn them, but he suffers another epileptic seizure. The perfect robbery will soon turn considerably less than perfect.